Glitter shoes can add a touch of sparkle to your outfit, and the best part is that you can create your own dazzling pair at home. Whether you're looking to revamp an old pair of shoes or want to add some pizzazz to a new one, this step-by-step guide will help you achieve the perfect glittery look.
Glitter Shoe Makeover Tutorial
Materials You'll Need
To get started, gather all the necessary supplies. You'll need a pair of shoes (canvas, leather, or any material you prefer), fine glitter in your choice of color, mod podge, a paintbrush, and a mixing tray.
Preparation
Clean your shoes thoroughly. Remove any dirt, dust, or old polish, and make sure they're dry before you start the makeover.
Mix Glitter and Mod Podge
In the mixing tray, combine the mod podge and glitter. The ratio of glitter to mod podge will depend on how much sparkle you desire. For a subtle shimmer, use less glitter; for an intense shine, add more. Stir until you have a smooth consistency.
Apply Glitter Mix
Using a paintbrush, carefully apply the glitter mix to the shoe's surface. You can either coat the entire shoe for an all-over sparkle effect or apply the glitter selectively for a more intricate design. Be sure to work in small sections to ensure even coverage.
Let It Dry
Allow the first coat to dry completely, usually within 30 minutes to an hour. Apply additional coats if needed to achieve the desired level of glitter. Be patient and let each coat dry before adding another.
Seal the Glitter
Once you're satisfied with the glitter coverage, seal it with a final layer of mod podge. This will prevent the glitter from flaking off and help it stay in place. Let the shoes dry completely before wearing.
Customize Shoes with Glitter at Home
Experiment with Colors
The beauty of DIY glitter shoes is that you can choose any color of glitter you like. You're not limited to what's available in stores, so feel free to mix and match different shades to create a unique, personalized look.
Add Rhinestones or Embellishments
Take your glitter shoes to the next level by incorporating rhinestones, sequins, or other embellishments. Glue them onto your shoes for extra bling and creativity.
Design Patterns
Don't limit yourself to a simple glitter application. Get creative and try various patterns and designs. Whether it's stripes, polka dots, or ombre effects, your imagination is the limit.
Glitter Shoe Paint and Supplies
Choosing the Right Shoes
Not all shoes are suitable for a glitter makeover. Canvas and leather shoes tend to work best, but you can experiment with other materials too. Consider the shoe's texture and whether it will hold the glitter well.
High-Quality Glitter
Invest in fine, high-quality glitter for the best results. Cheaper glitters may not adhere as well or produce the same dazzling effect.
Mod Podge Variations
There are different types of mod podge, including glossy and matte finishes. Choose the one that suits your style and the look you want to achieve.
Sparkly Shoe Decorating Techniques
Gradient Glitter
Create a stunning gradient effect by applying the glitter mixture more densely at the toes and gradually fading towards the heels. This technique adds an element of glamour to your shoes.
Ombre Glitter
For a trendy ombre look, blend two or more glitter colors together. Start with one color at the toes and transition to another as you move towards the heels.
Glitter-Dipped Heels
A popular choice is to focus the glitter on the heels. This gives your shoes a unique, eye-catching appearance.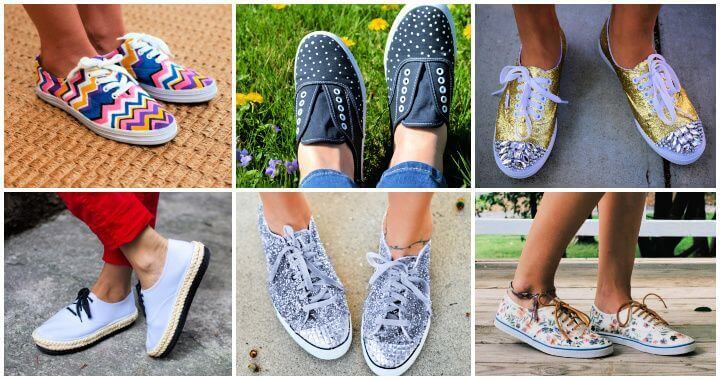 Glitter Shoe Inspiration and Projects
Glitter Sneakers
Turn your plain white sneakers into glittering masterpieces. This project is not only fun but also an excellent way to breathe new life into your old shoes.
Glitter Flats
Elevate your everyday flats with a touch of glitter. Experiment with different patterns and colors to match your style.
Glamorous Heels
Make a statement with glittery heels that are perfect for special occasions. You can choose to go all out with bold colors and designs or keep it subtle with neutral tones.
With these easy-to-follow steps, you can transform your plain shoes into glittering works of art. Let your creativity shine, experiment with various techniques, and add a touch of sparkle to your footwear collection. Glitter shoes are a fantastic way to express your unique style, and you'll love the compliments you receive on your one-of-a-kind creations. So, get started on your glitter shoe project today!