Business cards are essential for making a memorable first impression in the professional world. Whether you're a small business owner, freelancer, or just want to stand out at networking events, designing your own business cards can be a cost-effective and creative solution. In this guide, we'll explore the ins and outs of creating personalized business cards that reflect your unique brand identity.
Why Design Your Own Business Cards?
When you design your own business cards, you have full control over their appearance and messaging. This can be particularly valuable for small businesses and freelancers looking to convey a specific image or message. It's also a budget-friendly option, as you can save on design and printing costs.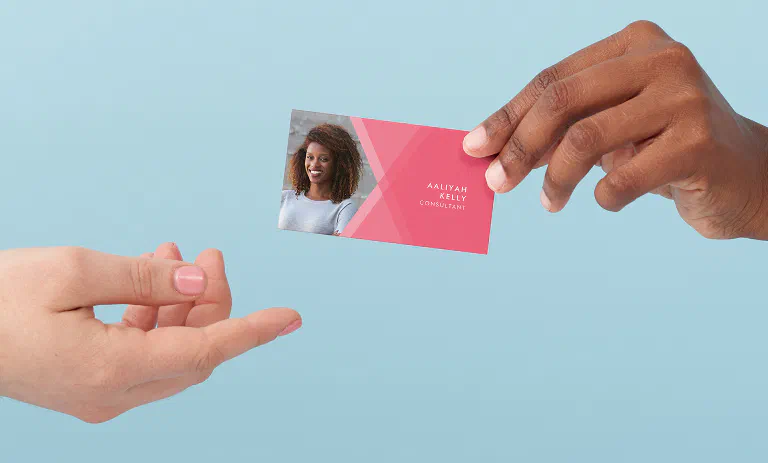 Tips for Designing Business Cards
To create a compelling business card, follow these tips:
1. Define Your Brand
Identify your brand's colors, fonts, and overall style to ensure consistency with your business cards. This will help in creating a memorable and recognizable brand identity.
2. Keep It Simple
A cluttered card is often less effective. Stick to essential information, including your name, title, contact information, and your business's name or logo. A clutter-free design makes your card more appealing.
3. Use High-Quality Images
If you include images or a logo, make sure they are high-resolution. Blurry images can give the impression of unprofessionalism.
4. Choose the Right Typography
Select readable fonts that match your brand's aesthetic. Use font size and styles that are easy to read without straining the eyes.
5. Utilize Both Sides
Don't limit yourself to just one side of the card. The backside can be used for additional information, services, or a catchy slogan.
Creating DIY Business Cards at Home
Designing business cards at home is a great option for those on a tight budget. Here's how you can do it:
1. Gather Supplies
You'll need a computer, design software (like Canva or Adobe Spark), high-quality cardstock paper, a printer, and cutting tools.
2. Design Your Card
Use the design software to create your business card. Ensure it's in line with your brand identity.
3. Print
Load the cardstock paper into your printer and print your cards. Be sure to use the highest quality settings for the best results.
4. Cut
After printing
Homemade Business Card Ideas
Get creative with your DIY business card design. Here are some unique ideas:
1. Handmade Cards
Consider adding a personal touch like hand-drawn illustrations or calligraphy. This can make your cards more memorable.
2. Eco-Friendly Cards
Use recycled or sustainable materials to create eco-friendly business cards. This shows your commitment to environmental responsibility.
3. Photo Cards
Include a small photo of yourself on the card, helping people put a face to your name.
Affordable Business Card Design Tips
If you're on a tight budget but want a professionally designed card, follow these cost-saving tips:
1. Template Libraries
Explore free or low-cost business card templates available online. These can save you both time and money.
2. Online Printing Services
Look for affordable online printing services that offer bulk discounts. This can be cheaper than printing at home.
3. DIY Printing Kits
Consider investing in a business card printing kit, which includes templates and cardstock. It can be a cost-effective solution for bulk printing.
Custom Business Card Printing Guide
If you prefer a professional touch, you can opt for custom printing. Here's how:
1. Choose a Printing Service
Select a reputable printing service that offers customization options. Ensure they can print according to your specifications.
2. Upload Your Design
Provide your custom design to the printing service. Ensure it meets their specifications for the best results.
3. Select Printing Options
Choose the paper quality, finish (matte or glossy), and quantity of cards you need.
DIY Business Card Templates
Finding the right template can be crucial to your business card's success. Consider these factors:
1. Design Styles
Explore templates in different design styles to find one that matches your brand's aesthetics.
2. Editability
Ensure that the template is easily customizable with your information and branding elements.
3. Compatibility
Check if the template is compatible with your chosen design software for easy editing.
Business Card Layout for Beginners
A well-organized layout is vital for a professional look. Here's how to achieve it:
1. Card Dimensions
Ensure your card is the standard size, typically 3.5″ x 2″. This makes it easy to fit into wallets and cardholders.
2. Margin and Bleed
Set appropriate margins and include a bleed area for accurate printing and cutting.
3. Information Hierarchy
Organize your information logically, with the most critical details in a prominent position.
Business Card Printing Options
Consider the various printing options to find the best fit for your business:
1. Offset Printing
This method is best for high-quality, large-quantity printing with precise color matching.
2. Digital Printing
Digital printing is cost-effective for smaller print runs and allows for quick customization.
3. Letterpress Printing
For a luxurious, tactile finish, consider letterpress printing. It's perfect for high-end brands.
Inexpensive Business Card Solutions
Running a small business often means working with a limited budget. Here are some cost-effective solutions:
1. Print-On-Demand
Use print-on-demand services to print only the cards you need, reducing waste and expenses.
2. DIY Printing Kits
As mentioned earlier, DIY printing kits can be a budget-friendly solution for custom cards.
3. Free or Low-Cost Software
Explore free or low-cost design software options to create your cards without investing in expensive design tools.
Business Card Branding for Small Businesses
Your business card is a powerful branding tool. Here's how to make it work for your small business:
1. Consistency
Ensure your cards align with your brand's colors, fonts, and overall aesthetic to create a cohesive brand identity.
2. Use Your Logo
Incorporate your logo into the card design to reinforce your brand's recognition.
3. Contact Information
Double-check that all contact details are accurate and up to date.
In conclusion, designing your own business cards gives you the opportunity to create a lasting impression and promote your brand effectively. Whether you choose a DIY approach or opt for custom printing, following these guidelines will help you create professional, memorable, and budget-friendly business cards for your small business.